Latest Posts
Subscribe to this blog's feed

"Do not go gentle into that good night,
Old age should burn and rave at close of day;
Rage, rage, against the dying of the light."
Dylan Thomas

Since we were giving updates, and Peg mentioned Cowboy, I figured today's post would be about the Ole Man.
My grandmother always used to hang up a calendar from a local funeral home in her house. I'd often point out to her that a funeral home calendar might be a tad morbid for an old lady, and she'd tell me, "You never know. I could die at any time."
Alrightie then.
Many years later she moved into an elderly apartment complex beside a cemetery. When I pointed out the irony of this, she replied, "You never know. I could die at any time."
Despite her predictions, she lived to a ripe old age, and caused more than her fair share of trouble along the way. But you kinda have to admired an old bird with that much grit. And that leads us to Cowboy, the ancient Border Collie who refuses to "go gentle into that good night."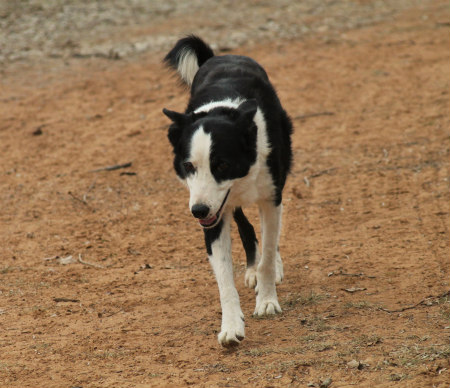 The family joke is that "Cowboy may not be with us much longer, so we need to baby him." Son pointed out that we've been saying that for years, and the old dog will live forever. The aging cowdog has a tenacious grip on life and is still spry enough to stir trouble wherever he goes.
He tries to incite dog fights. When your back is turned, he flashes gang signs and mouths veiled threats at other male dogs. When they roar at him, he manages to look innocent, thus if you had not caught him flashing gang signs, you would believe the other dog to be the aggressor. It's too cold or hot to keep him outside, so you bring him in the house. The moment your back is turned, he pees on the furniture. And then blames it on someone else.
He absolutely can not, can NOT, CAN NOT be left unattended at night with the Livestock Guardian Dogs because he will follow Briar through the fence after a coyote but not be able to keep up with her, or follow her right back into the yard, thus leaving himself old, lost, and defenseless against whatever lurks in the night. More than one tearful night has been spent in search of Cowboy.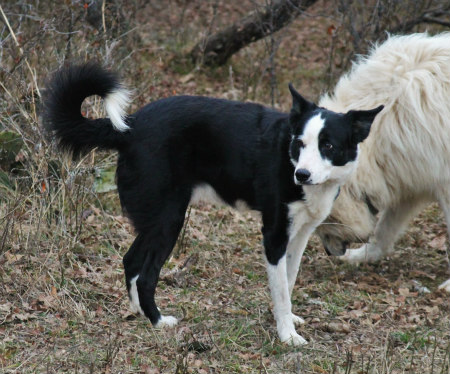 If you take him with you to tend sheep, he MUST stay inside the mule. He was once allowed to come with Trace, Lily, and Mesa as we pushed sheep through heavy mesquite and cactus to go back to the main pasture. Cowboy couldn't keep up and got lost. I had to abandon the sheep and was beside myself in tears looking for the old dog. I found him waiting beside the mule for me. The other Border Collies moved the sheep to pasture. I hugged Cowboy and made mental note never to let the old geezer get in that situation again.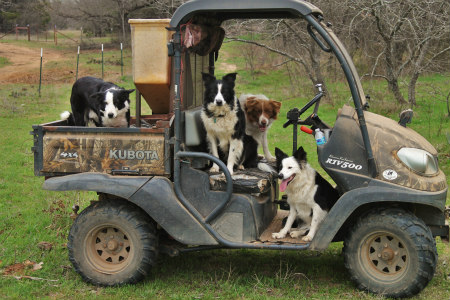 Unlike Lily, who is completely on board with retirement, happy to cheer the cow work from inside the truck, retirement doesn't fit on Cowboy. He is like an old man with no ass, who continually has to hike his pants up as he tells everyone who will listen about the glory days and why they're doing it all wrong. Instead of sitting in the VFW Hall, enjoying a drink and a tale with his buddies, Cowboy insists on still being in the action, barking orders from inside the truck, and bailing out if he thinks Trace needs help. (i.e. if he's doing it wrong.)
You have to admire grit like that. We don't know where he came from, what his breeding is, or how old he is, Cowboy is a stranger who came into our family and stayed. When we picked him up we thought he was the same age as Blue Heeler but it soon became apparent that he was much older. I'd estimate that he's at least 12 years old now, but still young enough to start a bar fight. Who says you have to grow old gracefully? You can be like Cowboy, look Old Age & Death in the face, and spit in his eye. Or piss on him.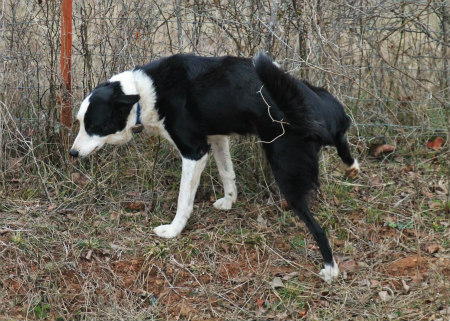 Loving all the new posts about the border collies. It is nice to read about how attached you are to Trace & cowboy after all.
Posted by
Elissa
on
01/10/2018 - 09:11 PM