Latest Posts
Subscribe to this blog's feed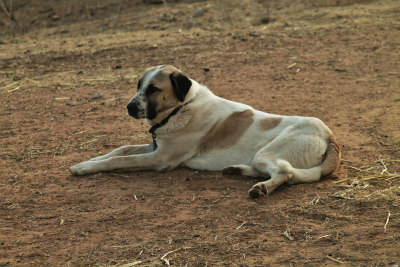 My mother used to say, "Give the hardest job to the laziest person, and he'll find the easiest way to do it."
She was talking about me. In general terms. I prefer not to think of it as being lazy, rather, I'd like to say that I'm efficient. Sounds better. If I can figure out how to have a dog do the job for me, then it's even better. Training dogs takes time. See above. Even my own mother said I'm lazy.
Despite that, I spent most of my adult life training dogs. For years I was pretty heavy into training and showing in all manner of dog sports, then I switched to using dogs for Search & Rescue work. Mine were really well trained because I devoted a lot of time to making them that way. Then one day, I just quit. I'm not sure when it happened.
When did I stop being entertained enough by shaping behaviors that I quit devoting the time to teaching "Stupid Pet Tricks?" Maybe it was when I stopped being held accountable for the performance of my dogs. I stopped showing. I stopped doing Search & Rescue. I retired from police work. But I had more dogs. A lot more dogs!
Arguably these dogs do more actual work than my trial dogs. Except for a few retirees, one free-loader, and a puppy, every other dog on this ranch has a job to do each time the kennel door opens. And yet, I manage to put a shamefully small amount of time into training them. If we actually took the time to focus on skills, to practice and hone our communication, then we'd certainly look better.
But I get busy. I have other things that demand my time, so I do the basics and muddle through the rest. The dogs pick things up as we go. Because they're with me all day long, we communicate pretty well anyway. I've tried to select breeds that lend themselves to the job at hand and individuals within that breed who are bred to do the job. I think that's the key to a lazy trainer - get a dog bred to do the job in the first place. That's half the battle.
Now instead of training dog sports skills, I'm molding behaviors that make life easier for me on the ranch - handling the livestock, working and playing well with others, whatever it takes to make life on a farm roll a little smoother. Recently my Other Half has been complaining about the amount of cat food I go through in a given week. Clearly the cats aren't eating all that. I must confess, they aren't. The dogs are. And the chickens.
It began as a hair-brained experiment but has seen much success from very little effort. A win-win in my book! To expose young Livestock Guardian Dogs to chickens, I scattered cat food onto the ground thereby allowing birds and dogs to peck and scratch together. This desensitized the Guardian Dogs to the hens. Over time the chickens moved out of their pen to free-range during the day, so it was imperative that I desensitize the other dogs to the birds. Every morning I now turn the hens out of their pen and scatter cat food around the yard like bird seed. The dogs and the birds love it. Other Half complains. I do what I always do, I ignore him.
I ignore him because I believe in teaching this life skill. It's more than a Stupid Pet Trick and it takes no more time on my part than scattering scratch grains. This morning my efforts paid off.
I was deep in thought about the latest farm mystery. Why did the Livestock Guardian Dog bring home a cow's leg last night? (This mystery is still unfolding.)
With my mind on other things, I hastily did chores, then locked dogs in outside kennels before I shuffled down to the sheep pasture with a camera to document things. (because that's what CSIs do, and that's what retired CSIs still do)
I returned back to the house to find this:
Labradors and chickens do not make good roommates. This is a hunting dog who is not given to cuddling small animals. And he likes fried chicken. I had failed to notice the chicken inside the dog house when I locked Dillon inside and left him alone for ten minutes. I did note the barnyard was eerily quiet when I returned. No barking dogs. I think the Border Collies were waiting to see what Dillon would do with Darwin.
Nothing. Dillon did nothing with Darwin. Dillon waited. Darwin waited. When I opened the kennel door they both filed out like civilized drivers when the red light changes to green. They both had places to go, things to do, people to see.
There's your pay-off for training dogs. Not only did he not kill the chicken, but he didn't teach five other dogs how enjoyable the sport of chicken killing can be on a sunny morning. So just because you're a lazy dog trainer, it doesn't mean behaviors shouldn't get shaped. Just don't expect polish, and expect to run through a lot of cat food.
Whoot! Well done, Dillon! ....Darwin is a magic chicken.
Posted by
Res
on
02/02/2018 - 12:37 PM
What a great read! I say 'smart' dog trainer!
Posted by
Marki Barta
on
02/03/2018 - 06:40 AM
I think I've said this before, but I'd love to see your next dog be an English Shepherd or an old-fashioned Collie from working lines (Old-Time Scotch Collie or Scottish Collie Preservation Society, hint, hint!! ;P ). I think they'd suit you to a "T"!
Posted by
Sarah
on
02/04/2018 - 06:10 PM
Never had and English Shepherd before but I had a Rough Collie. I love them. I'm a big Lassie fan and still tell the Other Half that one day I want to get another one. I haven't heard of the Scottish Collie Preservation Society. I'll have to check that out.
Posted by
forensicfarmgirl
on
02/05/2018 - 12:11 PM
I'm a moderator on the Scottish Collie Facebook page, so I'll let you in if you ask to join. ;) The SCPS is all old-fashioned Rough Collies, while the OTSC allows the inclusion of many herding breeds/mixes from the Collie-like end of the spectrum. Both groups have great dogs, but I feel like you're more likely to get a solid working dog from the OTSC at this point. SCPS is working in that direction, but the number of AKC-type dogs is higher over there, and not all are proven workers (yet).
Posted by
Sarah
on
02/07/2018 - 11:21 AM