Latest Posts
Subscribe to this blog's feed

Wednesday, February 28 2018
A farm crawls into a cocoon during the rain, peeking out only to demand more hay. After a week of wet weather though, even the most stubborn are moved to get out and see what the rains have spawned.
New life. The ponds and puddles are awake with frogs. Even the low temperatures don't slow their chatter. This is the first significant amount of rain we've seen in four months. The frogs must make haste. Like us, they don't know how long the water will last. The pastures and forest are beginning to green up again. The ewes are close to lambing so they've been locked in the barnyard and lower pasture. There isn't much grass there but after a week of rain, the pasture is waking up. I'd prefer not to have any livestock on it yet but that isn't possible this year, so we'll have to make do.
The sheep shuffle out to graze in the gray drizzle. The goats are unwilling participants, but have come because they're tired of standing in the barn. And peer pressure. Everyone else is going. The sheep are fine with the light rain so the goats grumble but walk along.
The Livestock Guardian Dogs are soaked. One lies beside the pond chewing a cow's leg that his brother dragged up one night. It remains a big mystery. No one seems to be missing a cow. The leg was complete - hip to hoof. Full grown cow. Who knows? We chalk it up to just one more mystery that may sort itself out in time. Until then the dogs enjoy chewing it like an all-day sucker.
Briar settles down on the tree line to supervise. She has a good view from here.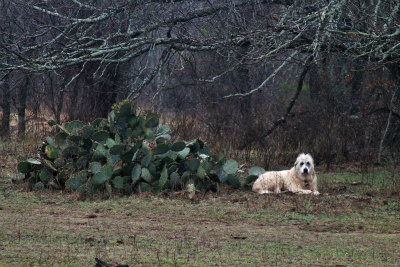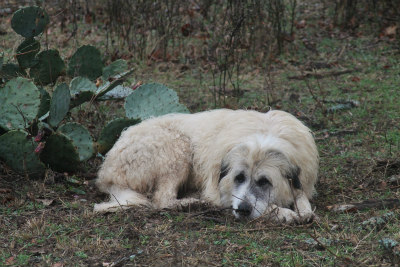 The rain gets a little harder. Time to save the camera. Briar walks behind me. Judge and the sheep stay. As I walk away they are swallowed by the mist. Like the frogs, we are all thankful for the rain.
4 months without much rain? Amazingly bad. I hope you enjoy some more rainy days and get a good start on new green grass and other plants! Our snow in Ontario is currently melting from sun and drizzle and warm temps a few degrees above freezing. It's a great respite for me after having a frozen water pipe from the well. I discovered that I can easily get along without Internet but the lack of running water is a real inconvenience. Now I feel as though I've finally rejoined the 21st century.
Posted by
Terri's Pal
on
02/28/2018 - 01:10 PM
Four months. That's what the newscaster said. It's been a while. We've had a spit here and there, but no appreciable amount. Now the land is drinking it up.
Posted by
forensicfarmgirl
on
02/28/2018 - 02:43 PM
Briar has a good view -- and a protected back! Ain't nothing coming at her through that prickly pear! Clever Briar!
Posted by
Res
on
03/01/2018 - 05:47 PM
We have had a fairly dry summer here, Little to no rain. [Spring was not bad] But the north inland has had buckets which was desperately needed after several years of drought. At least [touch wood] bushfires have been minimal this year.
Posted by
Liz {Vict Aust.]
on
03/04/2018 - 05:15 PM