Latest Posts
Subscribe to this blog's feed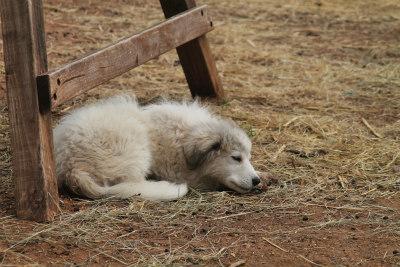 Yesterday I turned the lambs out in the lower pasture. For a short time Bramble, the Livestock Guardian Dog puppy, got to join the flock. Since lambing started I've been keeping the pup separated from the ewes. Navajo Churro ewes are fiercely protective of their lambs and even a full grown Livestock Guardian Dog learns to steer clear of new lambs.
The lambs spent some time stalking Briar which apparently creeped her out.
Because I didn't want Bramble to have a bad experience, I've kept her away from the lambs until yesterday. She was tickled beyond all measure when she was allowed to accompany the flock to pasture.
She also exhibited the kind of behavior I want to see from a Livestock Guardian Dog. Bramble was curious about the lambs and wanted to sneak a sniff.
Her approach attracted the ewe's attention.

The ewe moved to stand over her lamb.
Bramble took a moment to digest this, then she turned her head in submission and quietly walked away.
And that's how it should be. A good Livestock Guardian Dog should be able to walk through the flock like a light breeze passing through a garden. Except for a sway here and there, nothing should stir. No one gets excited. Life moves on.
When I could no longer watch her, I brought Bramble back to the barnyard where she found a horse hoof trimming and settled down to chew it. Her trips out with the flock will get longer and longer. It's time to get a bell for her collar so I can keep track of her. She's sprouted legs and an independent nature now. We are moving from the period of puppy confinement with livestock to actual training with the flock. Because she is still young and I don't want her running into the woods after predators with the big dogs, she will still spend the next year under constant supervision. The time spent teaching Bramble her job now will pay off in the years to come. Training a Livestock Guardian Dog is time-consuming, but it's time well spent.
What a good girl, Bramble!! <3
Posted by
Sarah
on
04/10/2018 - 06:51 AM
I know she's a working dog and not a pet but holy cow do I ever want to snuggle that little fluffball!
Posted by
Christine
on
04/10/2018 - 07:43 AM
Looks like the little lady is a fast learner.
Posted by
Susan
on
04/10/2018 - 12:56 PM
She is quite cuddly. Other Half has been letting her climb into his lap in the recliner. He will regret that one day. LOL
Posted by
forensicfarmgirl
on
04/17/2018 - 11:01 AM