Latest Posts
Subscribe to this blog's feed


As I sat in my swing this morning watching dogs and chickens play at my feet while I drank coffee, I gave some thought to how much I don't like cobras.
One wouldn't imagine that a rancher in north Texas would give much thought to cobras and the truth is, I don't. Now. When I was a kid, cobras were a thing. Like many children of my generation, I grew up on a steady diet of The Wonderful World of Disney. It was a Sunday evening staple in our home. Three children and a dog would gather on the floor around the television set. This was before the invention of the remote control and during that time if you wanted a remote control for your television set, you had children. Kids these days have no clue. Their parents had them just so they would never had to get up and change the channel again. Then the remote control was invented and children became obsolete. But I digress.
Disney. Disney was more than a vacation spot. Disney used to be imagination. A one hour show on Sunday evening fueled the imaginations of children for the rest of the week. We could be whatever the magic makers at Disney studios dreamed up. Disney took us to foreign lands. Hand in hand with The Wonderful World of Disney was Mutual of Omaha's Wild Kingdom. This was the Animal Planet and Discovery Channel of its day. Thirty minutes of Marlin Perkins, Jim Fowler, and Stan Brock fired the imagination of every child sitting on the floor in front of a glowing television screen. I wanted that life. I wanted Born Free. I wanted a lion sleeping on the roof of my jeep. I wanted to live with the animals, not in zoos, but in my home. I wanted elephants poking trunks through my kitchen window. I wanted to shoo the monkey away from my blender. I wanted a parrot that answered the phone. But I didn't want cobras. I already had rattlesnakes. No fun at all. Cobras are bigger and kill you faster. Definitely strike cobras off the list. I read Rikki-Tikki-Tavi about a pet mongoose who saves his family from a cobra. This fueled both my desire for a mongoose and my love of Rudyard Kipling, who gave me the ultimate thrill - The Jungle Book. Not the movie, the book. Better story. More animals. Spoiler alert - the snake is the villian. No surprise.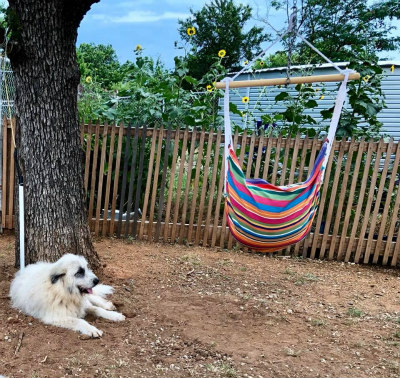 So I sat in my swing, sipping my coffee, and gave some thought as to how Walt Disney, Marlin Perkins, and Stan Brock shaped the woman-child I am today. I did not come from a family of ranchers but it was an easy gravitation. After all, living on a farm is very much like having a elephant at your kitchen window. Our life tilts toward the extreme. We live in the barn with the animals. Sheep, goats, chickens, and dogs wander around the yard together in some lopsided version of a Disney movie. And the villian is still the snake.
A dog the size of a mountain lion scattered chickens as he raced through the barnyard with a piece of dried up watermelon leather in his mouth. Herding dogs hung off his sides like a pack of hyenas on a wildebeast. Chickens scrambled and then regrouped as the dogs played out their own scene of Wild Kingdom. I don't have a parrot answering my phone, or a monkey to chase off the kitchen counter, but as I sipped my morning coffee it was still pretty clear - I do live in the jungle.
Click to find the Farm Fresh Forensics book!
Ahhh, love those shows of my childhood.... Along with Bonanza, My Friend Flicka, and of course Lassie! And yes, the snake was then and is still the enemy!
Posted by
Robin
on
06/15/2018 - 01:45 PM
Disney was a Saturday night institution here and started at the first neighbour that got the TV.[1956] Up to ten kids would collect at Aunty Normas to watch. We were related only by being playmates all day in the paddocks and riding the draft horse, Swimming in the ornamental ponds of the local grand house and then the wondrous TV show. As each family got a TV the gathering became smaller but the show went on right up until my kids were able to watch. Then poof it was gone...
Posted by
Liz [Vic Aust]
on
06/15/2018 - 07:13 PM