Latest Posts
Subscribe to this blog's feed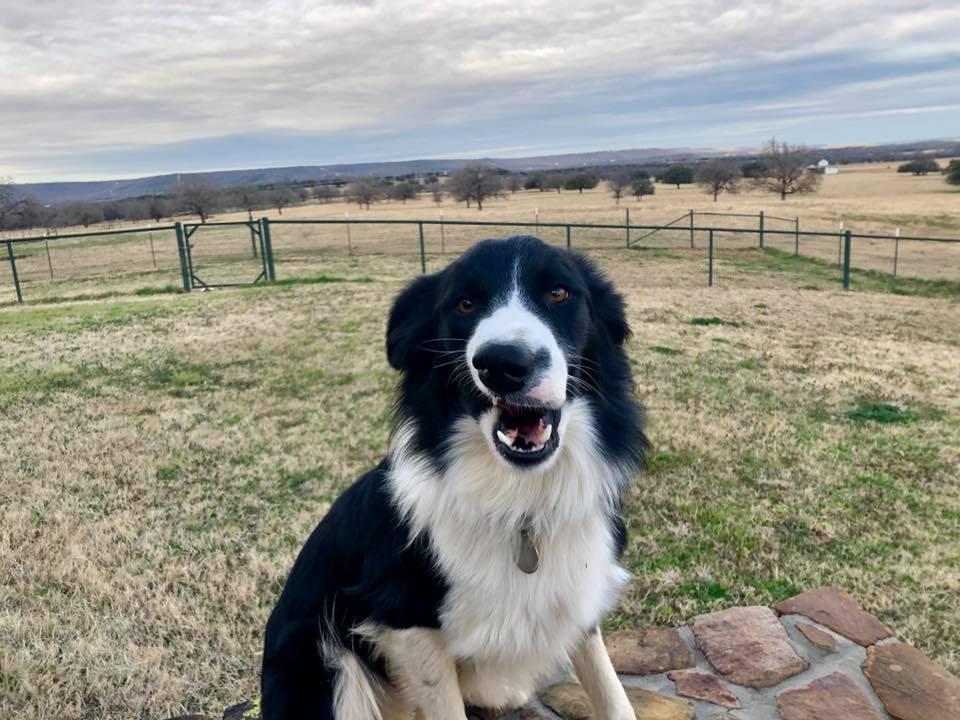 This little dude is a perfect example of why you shouldn't trash a "late bloomer."
He's finally got his head in the game and now he's becoming handy. Handy is good, but the real question is "When it's crunch time, will you reach for that dog?"
This evening was crunch time. And yes, I did. And he hit it out of the park.
We siphoned off some weanlings to keep at the house for Wyatt to work. I don't believe in training pups on pairs. On our ranch, a cow will try to kill a dog who doesn't bring his A game. Better to learn the skills on calves. They still kick and charge though. They still have to be dogbroke.
Today I was returning from town and discovered that one of our unweaned calves had somehow managed to get out of the pasture and onto the dirt road near the house. Figures. One of the rare times I didn't have a Border Collie with me. Since both sides of that road are fenced, it wasn't that big a deal to push the calf into the barnyard by myself. The problem was that the barnyard is over three acres and I wanted the calf to move away from the pasture containing his mother and into the pasture containing Wyatt's weaned calves.
I tried Mesa at first, but the calf went ballistic. Frantic to get to his mother on the other side of the fence he was working himself into a foaming wreck whenever Mesa got near him. Mesa isn't really a cowdog, she's my go-to sheepdog. She was chosen because she has bells and whistles that Wyatt doesn't have yet. But she doesn't know cows.... and this little snot was kicking to beat the band. I opted to leave him in the barnyard until it cooled off some and he calmed down.
By evening it was cooler but it was crunch time. The calf HAD to be removed from the barnyard. He was ready to be weaned anyway so he might as well go in with the closest group by the house.
Enter Wyatt. I opened the gate that led to the weaned calves and whistled Wyatt to pick up that calf. And held my breath.
This calf was not one of the sane ones. No such luck. He flipped his tail over his back and ran straight into the trees on the other side of the pond. With his back to the fence the calf had a pretty good fortress in there. But he didn't count on Wyatt to go THROUGH the pond to reach him. Wyatt never hesitated. He went straight across the pond and eased into the brush like a thief in the night.
Wyatt was calm and controlled but firm. It took that dog less time to pen that nut-job calf than it took me to walk out there. I was beyond elated. He's beginning to understand his power and use it without getting into a scuffle or a rush. Although Mesa is tremendously talented, she doesn't have the power in her eye and the confidence to handle something that much bigger than a sheep. Wyatt does.
I caught a glimpse of the dog he will become today. And I liked what I saw.
I really like that in a dog. Very agile, smart and efficient.
Posted by
Steve L
on
08/02/2019 - 09:31 PM
Love how you see the positives in all your dogs, and use their strengths!
Posted by
Sharon
on
09/19/2019 - 10:38 PM
I love this story. We don't have a farm. We trial on sheep, work at the trials, and help our friends who have small farms. All of our dogs have been rescues and hand-me-downs who were not the "perfect dog" for someone. We give them a chance to do a little bit of what they were bred for. Most are older, so by default, late bloomers. To a one,they have been a pleasant surprise.
Posted by
Barbara K
on
11/27/2019 - 06:49 PM